We'd like to do cross marketing with different partners, looking for sponsors for our trips and events and being a sponsor to promote our brand. OKDealTravel will offer you strong social media surport to promote your company's service and products to your target clients!

OKDealClub was established in 2007, and we are one of the most popular social networking clubs in Shanghai. OK, Deal! Club organizes weekly travels for people around the world. Every year, we organize over 150 trips with over 3000 people joining us. And we've had over 20,000 members.
【Marketing cooperation】
Email: danniechen@okdealclub.com
WeChat: cdn_888
Tel: 18221938658
Facts about OKDealTravel and Members
Around 3000 members participate in our trips per year

Around 250 members every month participating in our trips

Around 200-300 members participate in the special holiday trips


Our target clients are people from different countries, with age mainly ranging from 20 – 50 years old, we also have many family-friendly trips especially for family clients.

The ratio of local Chinese and Expats are 6:4. Gender ratio of Female and Male is 7:3

The job titles are mainly manager level, consultant, engineer and director

The Industries are mainly about trading, IT, consulting, Engineering, Finance etc.

Around 45% of the Expats are from North America or Europe countries,40% of which are from Asia and 15% from other countries.
The Benefits of being an OKDealTravel Sponsor
1. Strong marketing media platform to promote your company products and service to international professionals in Shanghai
2. Build up your international branding and image.
3. Obtain the best brand publicity with The lowest cost
4. Your company's logo will show up on the OKDealTravel media platfrom
5. With over 13,000 email addresses in the OKDealTravel newsletter database, OKDealTravel will provide an excellent opportunity for you to promote your branding to high-end members from different countries. Once a sponsorship has been arranged, we will add a brief introduction of your company in bilingual language and logo into the newsletter
Examples of helping OKDealTravel's Sponsor to Promote:
https://mp.weixin.qq.com/s?__biz=MjM5MTE3NDY4MQ==&mid=2650993837&idx=1&sn=86b75bf9194b699c9cc6d52302ef46fe&chksm=bd4fcddb8a3844cd3a347e57d49888259ebe640762f0080706fc5475b5d6c73d68b1d6239534&token=2000109481&lang=zh_CN#rd
https://mp.weixin.qq.com/s?__biz=MjM5MTE3NDY4MQ==&mid=2650993553&idx=1&sn=f4d332354959d5b334b9ffe4b411147c&chksm=bd4fcae78a3843f1665a86c6940d0efe60c05f3df8a50ae39555913093874b7d6f9daf864829&token=2000109481&lang=zh_CN#rd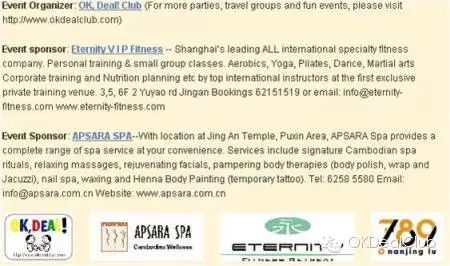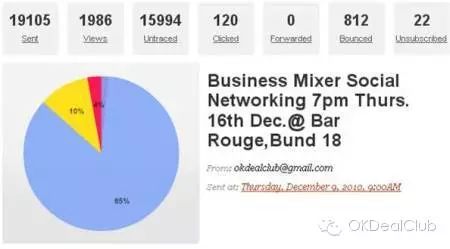 The Sponsorship Could Be
Simply Cash to cover event organizing cost or Product Giveaways
Examples:
Travel services discount
Round-trip airfare tickets
5-star hotel room stay
Entrance tickets
SPA/Facial Vouchers
Bottles of Wine
Free appetizers or desserts
Training classes
Health & fitness classes
Membership or club cards
Digital products
……
​
Please send Your Proposal to travel@okdealclub.com with
1. A brief description of your products or services
2. Preferred month of your participation
The more aligned your products and services are to the interests of our members, the higher the chances of getting approved!
【Marketing cooperation】
Email: danniechen@okdealclub.com
WeChat: cdn_888
Tel: 18221938658